When you're shopping for machines do you find yourself wondering if the more expensive option for a machine is the better one?
Does a taiwanese brand perform worse than a German brand?
Will one machine last longer than another?
Are some machines pretty similar between certain brands?
The truth is, paying more money for a machine tool does not always translate to better user experience or greater productivity.
Machining and life are more interesting than that!
Our guest on today's podcast is Justin Tauber, co-owner and Vice President of Integrated Machinery Systems (IMS), a machine tool distributor in Itasca, Illinois. 
Justin's company sells a wide variety of machine tools, ranging from turning machines, machining centers, grinders, 3D printers and automation equipment. In our interview, Justin discussed the merits of high-end expensive European machine tools as well as the advantages of lower cost brands built in Taiwan. If you're currently thinking about purchasing a new CNC machine, I think you will find this interview useful.
Facebook: https://lnkd.in/dB_nzFzt
Instagram: https://lnkd.in/dcxjzVyw
Twitter: https://lnkd.in/dDyT-c9h
Main Points
IMS's Machine Tool Offerings
Integrated Machine Tool Services distributes a long list of popular machine tool brands. It sells United Grinding group, which includes some of the most well known German grinder brands such as Walter, Ewag, and Studer.
IMS sells CNC turning and milling machines from Index/Traub, Yama Seiki, Hermle, and Takamaz. It also sells Markforged composite and metal 3D Printers, and Universal Robotics collaborative robots.
Yama Seiki CNC Swiss 
I first met Justin when we contacted him to learn about a used Yama Seiki Swiss machine that Graff-Pinkert had been offered. Justin says the brand has been selling well lately. Currently, the most established and more expensive Swiss CNC brands such as Citizen, Tsugami and Star often have long lead times on their most popular models. This has caused some of their customers to try Yama Seiki rather than lose available work. The design of Yama Seiki Swiss machines has a lot in common with that of Star. The two brands have the same Fanuc Control, and Justin says he has seen Yama Seiki users utilize programs from Star machines with very little editing. Certain models from the two brands have the same tool layout, and the tooling of both brands is similar.
The most popular Yama Seiki Swiss models that IMS sells are 5-axis SW-20 (20mm) and SW-32 (32mm). I thought this was interesting because Graff-Pinkert has had much better success selling Swiss machines with six axes rather than five axes. But Justin says most of his customers haven't had a need for a Y-axis on the back working or a B-axis, though Yama Seiki does offer those options. 
Justin says an end-user can purchase a 5-axis SW-20 with a generous tooling package, 12-ft Fedek LNS bar feeder, C-axis on main and sub-spindle, and a chucker kit (to run with no guide bushing) for $164,000. The 32mm model costs about $17,000 more. He says he has had good feedback on the machines. They are capable of holding tight tolerances. Maybe they aren't quite as accurate as their competitors, but for a great deal of jobs they work very well. He also says the machines have proven themselves to be durable. He has customers who have been running the machines for 10 years and still are satisfied with their production.
INDEX CNC Multi-Spindles
Justin is also a believer in expensive European CNC equipment if the job is right. IMS is the INDEX/Traub distributor for Illinois. If a turned part's tolerances are extremely tight and volumes are huge he steers customers to INDEX CNC Multi-Spindle screw machines. He says for the right part, an INDEX Multi-Spindle might be able to do the work of nine CNC Swiss lathes. If an INDEX runs double feedout it could produce a complex part in less than 10 seconds. He says an INDEX MS40C 6-spindle runs around $2 Million before turnkey and options. As for lead time, INDEXs are not built exclusively on requests from customers, which could make them available more quickly than machines of competitors. He says an MS40-6 could be available in March of 2023.
3D Printing
Justin sees lot of growth happening in 3D Printing, with many new products coming out. Unfortunately, the rate of adoption of the technology is not as fast as producers had hoped. They thought it would be easier to get shops to try the machines.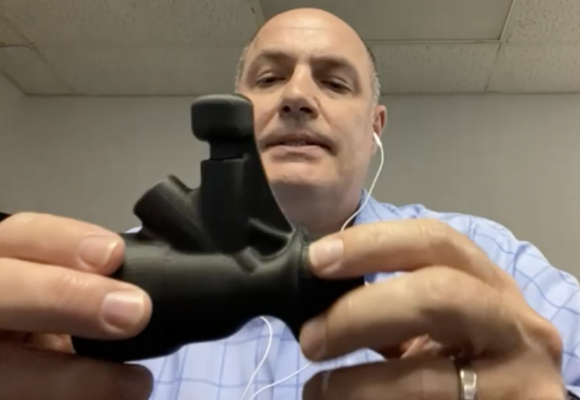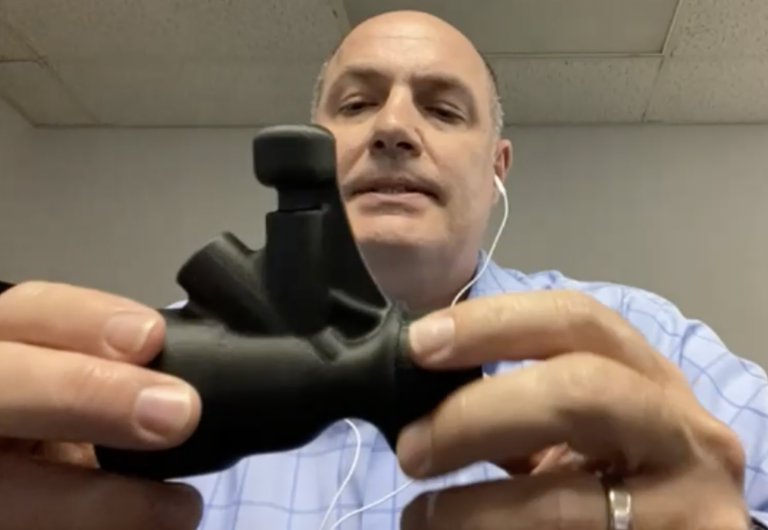 IMS sells sells Markforged 3D printers for under $5,000 for a desktop type. They sell a metal system for around $250,000 that comes with a printer, wash station and sintering oven. The printers can make parts fixtures, end arm tooling, end use parts, and custom tool holders with materials such as tool steel, stainless, and copper. 
A huge advantage of 3D printers is that they take little skill to use. He showed me a part during the interview made of 80% nylon and 20% carbon fiber that a few of IMS's sales people, who had never used a 3D printer before, produced overnight. Machining the part would have required a 5-axis CNC machining center or several operations on simpler machines operated by a skilled machinist. 3D printing still lacks the ability to get the tolerances achieved with machining, but one day they likely will.
Justin says no matter what type of machine tool you are thinking about buying, the technical support and access to spare parts in your area is one of the first factors to consider. After that is taken into consideration, you can evaluate the technology and prices.
Questions:
What new machine tool do you wish you could have in your shop?
Do you usually buy the most expensive models or bargain hunt?
Podcast: Play in new window | Download