Scroll down to listen to the podcast with Mike Fair.
At the 2018 International Machine Tool Show I recorded a podcast with Mike Fair, Product Manager of Rethink Robotics, a robotics company specializing in collaborative robots for use on the factory floor.
What sets Rethink Robots apart from several of the other collaborative robot companies I saw at IMTS is that their robot models have people's names and they feature a display tablet placed in a position to resemble a head. The robot featured at the Rethink Robotics booth was called Sawyer. Rethink's philosophy is to give collaborative robots, also known as cobots, a personality in order to make them more approachable to the people who work side by side with them. Fair said that industrial robots have always had the connotation of being dangerous. Making the robots more lifelike is the company's attempt to create a more harmonious relationship between the robot and its coworker.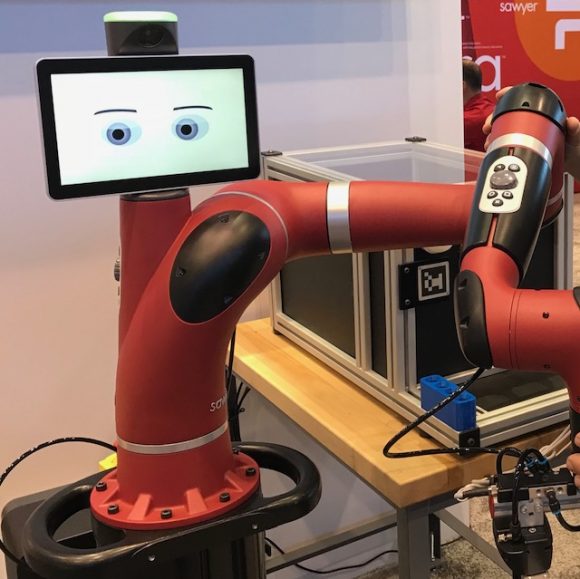 In the interview Fair described Sawyer's roles on the shop floor, performing the tasks shop workers deem mundane, dirty, unpleasant and dangerous. He said that Sawyer is well suited for CNC machine tending, aiding in loading and unloading parts particularly during jobs with long cycle times. He said Sawyer is also useful for packaging and pick and place processes such as part inspection.
Question: Do robots scare you?
Podcast: Play in new window | Download