Scroll down to listen to the podcast with Russell Ethridge.
Today Brett Kavanaugh is being interrogated in hearings of the Senate Judiciary Committee as he attempts to thread the political needle to become a U.S. Supreme Court Justice.
In today's podcast I interviewed Russell Ethridge, a solo practitioner lawyer in Detroit, who also listens to cases as a judge two days a month for the humongous sum of $15,000 a year. He believes the legal system must work for the guy accused of drunk driving for the second time and the secretary in the local real estate firm accused of embezzling $65,000.
Russ has been Graff-Pinkert's lawyer for 25 years. I got to know him when he was spending a stint in Jamestown, New York, representing a French multi-national called Valeo. He sold Graff-Pinkert 13 Wickman multi-spindle screw machines for more money than I wanted to pay. Good negotiator.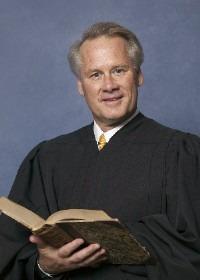 Ethridge has a knack for quickly assessing the nub of the issue in a potential legal hassle and pointing to a way out with the least aggravation possible. Many lawyers like to milk a case for the billable hours. Russ thinks the opposite way, always looking for the smartest, most efficient resolution of the problem.
Russ's Dad was the Editor of the Detroit Free Press in its heyday in the late 1960s and '70s. In Russ's younger days he worked as a reporter for a tiny paper in West Virginia close to where his grandfather practiced law for 60 years.
Russ's grandfather had a one man retail legal practice, which to some degree was a model for Russ. In the podcast Russ discusses the impact his grandfather's funeral had on him when he observed the huge cross section of people who talked about how his grandfather had helped them over the years. Russell Ethridge—lawyer, judge, one man band—continues his legacy.
Question 1: Is our legal system rigged against the little guy?
Question 2: Would you prefer to pay a lawyer by the hour or by the job?
Podcast: Play in new window | Download