Is the National Acme screw machine today the accordion of machining? 
Are shops staking their future on the Acme the polka bands of manufacturing? 
As sad as I am to admit it, I am close to conceding that at least the 6-spindle Acmes have become hard for a used machinery dealer to turn into money.
The reasons are many, and certainly there are exceptions to this observation. 
1) You can't find operators to replace the thousands of retiring setup people and tenders of the cam operated screw machines. An Acme makes money if you can keep it running. In today's machining world of lean purchasing, the 100,000 piece orders are increasingly rare. No setup folks means idle machines when orders are usually 10,000 pieces or less.
2) An Acme is cam operated in a constantly changing world. To be prepared to run a variety of jobs you need to store cams and have a record of them. Shops today have a finite amount of usable space. Owners do not want to keep track of bulky cams that are expensive to make.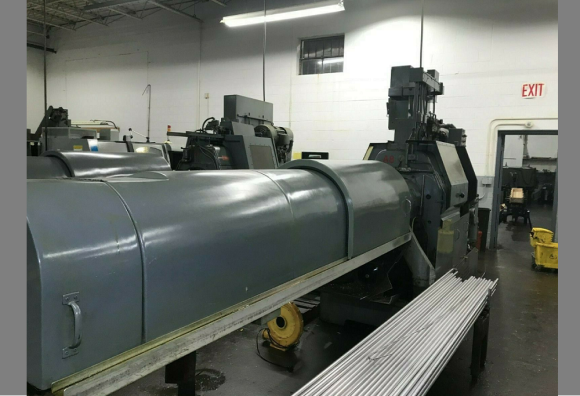 3) Repairs can be troublesome. Most firms do not have the expertise to repair broken or sloppy machines. Repair parts are expensive when you can find them. Sellers of spare parts are dwindling and not carrying everything. Attachments usually are not immediately available, so Acme users need to keep old machines around to rob for spare parts.
4) If you want to keep a 40 to 70-year-old Acme running, who can give it a heart transplant? The sad fact is that even with thousands of viable Acme 6-spindles still running and making money, there are just a couple of Acme rebuilders still around to bring them back to life.
5) But what about the 8-spindle Acmes? It appears that the 8-spindle National Acme, especially the 3/4″ RA-8, 1-1/4″ RB-8, and 1-5/8″ RBN-8, still have a place. Judging by the demand that Graff-Pinkert sees, those machines, especially with Logan threading and pickoff attachments, fill the niche of efficient long-run production at an affordable price. Compared with European competition like Schütte, Gildemeister, Tornos, or ZPS, they sell for a pittance, so shops accept their deficiencies and run them until they drop.
For my whole life, selling the stallion of cam screw machines has put food on the table. These are the machines that help win wars and pour out fittings for faucets around the world. But even Secretariat limps around the barnyard eventually.
From my standpoint of a machinery dealer, the 6-spindle Acme-Gridley is now a bargain item. I write this with genuine sadness because a 1-1/4″ RA-6 with a good stem was gold just a few years ago. Today, many people still like them, but for a non-rebuilt machine Graff-Pinkert generally asks between $10,000 to $40,000.
The question is, will they become accordions that most people no longer know how to play? 
Or, will 6-spindle Acmes make a comeback with an expanding Mexican market, like we have seen with Davenports in the last three years. It could happen.
Please come back Frankie Yankovic!
Questions: 
What is the oldest machine in your shop, and is it still making money for you? 
Do you still love a good polka?