On today's podcast we continue our season about how machining companies acquire new work. Our guest is Wes Szpondowski, plant manager of Wyandotte Industries, a multi-spindle job shop near Detroit that predominantly runs good old ACME-GRIDLEY screw machines. We interviewed him  last week when he came to Graff-Pinkert to inspect an ACME 1-5/8" RB-8.
Wes says one of the keys to Wyandotte's success is that the company is constantly quoting new jobs. He says even if a machining company only lands a small percentage of work it attempts, persistent quoting gets the company's name out, which leads to more work down the road.
Scroll down to read more and listen to the podcast, or listen with Google Podcasts, Apple Podcasts or your favorite app.


Main Points:
Wes gives some background on Wyandotte Industries. He says his grandfather started the company, specializing in producing custom nuts. In the late '90s the company branched out into more diverse and complex parts. (2:00)
Wes talks about Wyandotte's constant search to find employees—talented, reliable people who want to run older cam screw machines. He talks about a young guy he met at working at a deli counter the day before, who he invited to apply for a job at the shop. (6:00)
Wes says Wyandotte's mantra is "quote, quote, quote." The company has an internal sales team that works with a number of manufacturers reps working on commission. Then Wes works with the internal sales team to quote the jobs. He says because the company is so aggressive in seeking new jobs, it gets its name out there, which brings new opportunities to make a lot of different parts. (8:00)
Wes says that it doesn't matter how lean a company is or how clever its manufacturing operations are if it doesn't do a good job of getting new work. He says he has seen many shops that are "better" than Wyandotte who went out of business because they didn't know how to get new work. (10:10)
Wes reiterates that it's important for as many buyers as possible to know who your company is because sometimes the suppliers they currently have fail to get the job done. When that happens they come running to you. (11:00)
Wes says manufacturers reps are useful because they represent diverse clients. The clients aren't supposed to be competitors of one another, but the reps have interesting networks that can bring them new business. For example, a manufacturers rep might represent a forging company or cold heading company and those connections can lead to new clients. (12:40)
Wes talks about competing with Chinese manufacturers. He says nowadays the quality from Chinese suppliers is often pretty good, but the delivery from China is still a big issue, particularly if companies in the US are trying to keep low inventory. (14:00)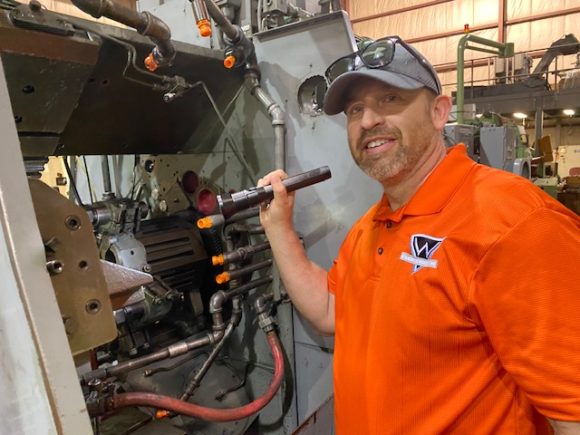 Wes talks about the advantages of running ACME multi-spindles, which he characterizes as "reliable tanks." He says Wyandotte likes CNC lathes as well, but unlike CNC machines an ACME can run forever. He says ACMEs put Wyandotte at a good price point that many shops can't compete with because the machines are cheap and can crank out large volumes of parts. He says as long as a shop can have the people to run them, ACMEs can lead to getting a lot of jobs. He says it's difficult to find good people to run the ACMEs, but he jokes that once the people learn how to operate the machines the job is actually a lot of standing around for pretty good money. He also talks about the simplicity of repairing an ACME, comparing it to repairing a classic car vs. today's models. (16:00)
Wes says Wyandotte tries to supply to a diverse customer base rather than only auto companies because that work is too unreliable. (19:45) 
Wes says Wyandotte is constantly evaluating which jobs make sense financially. If the job isn't making money, the company is not afraid to ask customers for more money. (22:00)
Wes debates buying a machine for a specific job vs. buying equipment on spec for future work. He says that he will take advantage of opportunities for great deals on used equipment that come up if he knows he has the talent already in-house to run it. But, he says he doesn't want to buy million dollar machines like Hydromats, or Buffolies or CNC multi-spindles because those aren't who his company is. He wants to use some sophisticated CNC equipment but still wants to keep the operation somewhat simple, so it's reliable. He says that more complicated machines require higher priced, skilled people to run them. (23:50)
Wes says the biggest challenge he has for getting work is having the right talent to produce it. If he doesn't feel his people are good enough to produce the part he won't take the job. (31:30)
Question:  Is running quality ACME screw machines a good business plan right now?
Podcast: Play in new window | Download