The use of advertising slogans must be as old as advertising itself. But if you are like me, most slogans are immediately forgotten if they were ever remembered in the first place.
But what if you take note of a slogan because it offends you. I thought of this a couple of days ago watching the new Gillette ad, which emphasizes the prowess of American manufacturing and even showed a man working at what appeared to be a Bridgeport mill.
And then the slick TV ad ended with the hackneyed old Gillette slogan "the best a man can get." It struck me that it was not only an anachronism but it can be offensive to both women and men.
A little context. Gillette which is now a division of Procter and Gamble, was asleep at the switch as Dollar Shave Club and Harry's attacked them on price and coolness. The beard trend in men also hurt them. For many years Gillette was a cash cow that barely had to advertise. It owned the shelves at drug stores and supermarkets, but the upstarts saw sticker shock on $5 razor cartridges and $25 packages of blades.
Social media and internet sales punctured Gillette's sense of invulnerability. The company woke up and started buying slots on the declining NFL games, just what an old sluggish brand with a big ad budget might do. But every ad still ends with "The best a man can get."
Business has really started to deteriorate for Gillette and they finally decided to address it, by taking out ads saying customers were leaving Harry's in droves after trying it. That approach ended up as a PR disaster for Gillette because it was both false and also gave Harry's tremendous visibility. Gillette came off as a slobbering bully.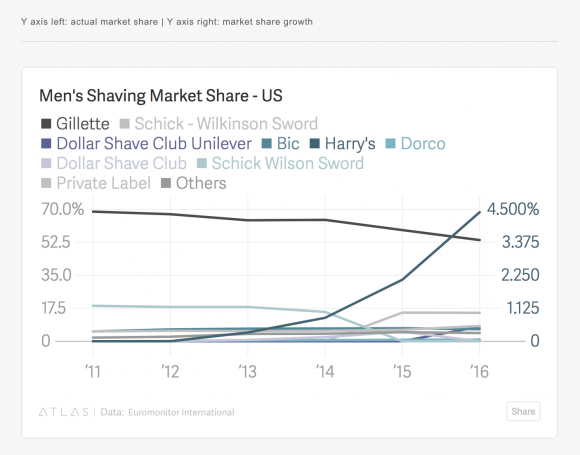 Now Gillette is discounting its blades and has begun a subscription plan, imitating its competitors.

What bugs me about the Gillette slogan is that it strikes me as so yesterday and obviously sexist. And clearly stupid. The implication is that Gillette isn't the best product, it's just "the best a man can get." Presumably a woman would buy a better razor.

Other interpretations of the slogan can also be made, which some will find offensive. What shocks me is that a company like Proctor and Gamble that makes billions of dollars on Tide, can be so utterly tone deaf in an age of sensitized gender identity.
I can only surmise that owning Playtex and selling cosmetics and tampons has not made the corporate types in Cincinnati more astute, or even politically correct.
For the guys who make the ad decisions at Gillette, the results must seem like, well, "the best a man can get."
Question: Have you abandoned "big brands" for niche products?
The Gillette ad that backfired