The Aegean Sea is 186 miles wide, separating Greece from Turkey. The countries have a different alphabet and language, and for a thousand years they have hated each other. 
But today's blog is about two Turkish doctors and a Greek veterinarian who came together to rescue us from COVID-19.
The story starts with Uğur Şahin, whose parents moved to Cologne, Germany, from Turkey to work at the Ford factories in the mid-1960s when Uğur was 4 years old. At a young age, Uğur committed himself to developing a cure for cancer, and became a doctor and scientist. 
His wife, Özlem Türeci, two years younger, also came to Germany as a young child. Her father was a surgeon at a small Catholic Hospital. She wanted to emulate the selflessness of the nuns she had observed in her dad's hospital and also became a doctor and researcher.
The two dedicated scientists eventually met one another and fell in love. They got married during a lunch break and then rushed back to their medical research.
They were recognized for their impressive research, but like many visionaries they could not find the freedom and support they wanted working for a large pharmaceutical company, so they started their own company in 2001.
They received the backing of twin billionaire brothers, Thomas and Andreas Struengmann, to finance a company called Ganymed Pharmaceuticals. The brothers previously had made a fortune backing the early developer of Lipitor and saw a future in the research of Şahin and Türeci.
The Turkish doctors eventually became enthralled with a line of research developed in the United States at the University of Pennsylvania called messenger RNA, which they saw as a pathway to developing a variety of drugs and possibly leading to a cancer cure based on using the body's immune system. They started a second company in 2008 called BioNTech, which included messenger RNA in its range of cancer research technologies.
They sold their first company in 2016 to Astellas Pharma to focus on messenger RNA at BioNTech. The Struengmann brothers continued to support BioNTech and now control 47% of the company. The significant fortune that Şahin and Türeci have aquired does not mean much to the couple, who bicycle to work from their modest apartment near their office in Mainz, Germany. To them, the money is primarily a vehicle to fuel their research.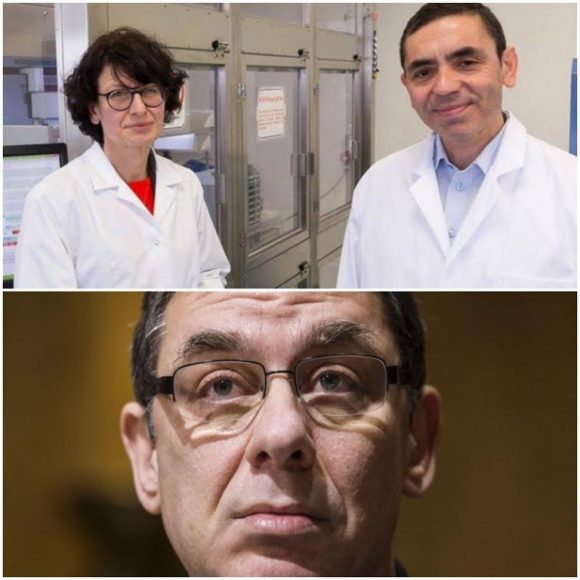 This is where the Greek connection begins. The research on messenger RNA at BioNTech showed promise for a flu vaccine to Dr. Albert Bourla, CEO of Pfizer, the American drug giant based in New Jersey. Like many huge Pharma companies, Pfizer possessed the pieces that a relatively peanut sized company like BioNTech lacked. Pfizer also had loads of cash and manufacturing plants, including a vaccine facility in Kalamazoo, Michigan, which was underutilized. Many of Pfizer's major research efforts had failed to produce a breakthrough drug in Alzheimer's and Parkinson's. Also its enormous acquisition of Wyeth in 2009 was considered unsuccessful. 
Pfizer's board was desperate for fresh leadership, with its huge money making drugs having only a few years left before they went generic.
Dr. Bourla, though he had worked at many different divisions in several countries, was something of an outsider. With a background in veterinary medicine, he was brought in to shake up the behemoth Pfizer in 2018. One of his early moves was to establish a relationship with the young startup in Germany, BioNTech, run by the two Turkish doctors.
Albert Bourla grew up in Thessaloniki, Greece. He is the same age as doctors Şahin and Türeci. His ancestors were Sephardic Jews who had emigrated to Greece after being thrown out of Spain 600 years earlier. In World War II 45,000 Jews living there were rounded up and killed by the Nazis from 1941 to 1943.
Dr. Bourla's family fled to the mountains, joined the partisans, and survived the war. They decided to return home after WWII. Albert Bourla grew up in Thessaloniki and studied veterinary medicine at the city's university. After college, he joined Pfizer in the field of veterinary medicine and held several positions throughout Europe and in the US, culminating in becoming the head of vaccines for Pfizer.
Bourla still has a summer home near Thessaloniki, where goes back each year to be with the family and friends he left behind. But he did not go back this summer because he was all in with the two Turkish doctors from Germany, with whom he had become close friends. Dr. Şahin says some of his contractual arrangements with Pfizer are still unsigned because he has complete faith in Dr. Bourla to live up to them.
The two Turkish doctors and the Jewish Greek animal doctor had just one abiding goal this year–kill COVID-19 and save millions of lives. The first shots were given in New York City on Monday, where Albert Bourla lives today. We all rejoiced, including Greeks and Turks together.
Question: Will you take the COVID-19 vaccine?