Happy New Year! As much of the Swarfcast team is on vacation through the holiday season, we're sharing a few of our favorite podcasts from 2019. This week, we feature an episode we did with Aneesa Muthana, the owner of Pioneer Service Inc., a CNC machine shop located in Addison, IL. The episode originally aired in March of 2019.
Scroll down to listen to the podcast.
Lloyd and Noah write: "On today's podcast, we interviewed Aneesa Muthana, owner of Pioneer Service Inc., a CNC machine shop that features 26 Star CNC Swiss lathes. Aneesa shared her fond memories of being raised on the floor of a centerless grinding shop, M&M Quality Grinding, founded by her Yemeni immigrant parents. While other girls were playing with Barbie dolls, Aneesa relished learning to use micrometers and cleaning out oil tanks from Cincinnati centerless grinders. At 23 she left M&M, where she had once thought she would stay forever, and bought into Pioneer Service Inc. a Brown & Sharpe shop owned by her uncle.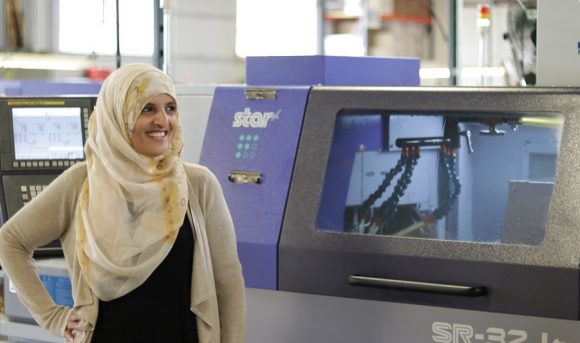 Aneesa shared her views on a number of topics, including how women are treated in the machining industry, her preference to work with Star CNC Swiss lathes over Samsung and Brown & Sharpe machines, and the significance of the hijab she wears."
Question: What are you looking forward to most in 2020?
Podcast: Play in new window | Download