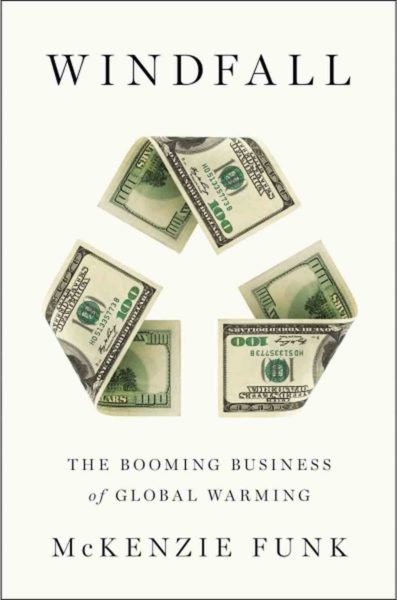 I am a global warming (GW) cynic—not a total skeptic, nor a true believer. I am cynical because I know what motivates many of the people involved—what else, money. I know the hypocrisy of those who talk tough about others' requirements, but renege on their own actions. And I know that this is a rich world's problem that may be laid on the backs of the poor.
In McKenzie Funk I've found a fellow traveler. His recently published, Windfall: The Booming Business of Global Warming is about people looking for an opportunity to profit off GW. Whether there is a real crisis or not, it doesn't matter. Making money is the objective. Their legions are many—wind and solar manufacturers, oil and mineral companies, seawall builders, bottled water companies, genetically modified seed producers, and inventors and patent holders in new technologies like geoengineering.
Funk cynically notes the first big GW financial success was Al Gore's movie, The Inconvenient Truth. While the movie was not much more than a power point presentation, it grossed about $50 million. In full disclosure, from 1997-1998 I served on a committee chaired by Gore to determine a ballpark estimate for the U.S. to meet the Kyoto Treaty. The total estimate was between $500 billion and $1 trillion per year (about 3-6% of GDP). That's enough of a tax to throw the economy into a severe tailspin. This is the real "Inconvenient Truth" that stalls significant emission reductions in the U.S. and around the world. The immediate cost is far too high, and the savings are much too far into the future.
That is why I am a cynic. Many countries talk tough, but waffle when their economy is impacted. The European Union's recent backdown from their self-imposed 2020 requirements is a perfect example.
So, what are we to do about climate change? After examining many alternatives, Funk points to geoengineering as the answer—seeding the stratosphere with microscopic sulfur dioxide particles to shade the sun's rays—but the potential downsides gave him cold feet at the end.
To write this book, Funk spent six years traveling the world, talking to creative people. Among them was Bill Gates, whose foundation has spent billions on disease eradication and genetically modified (GM) seeds but has not spent a penny on mitigating carbon emissions. Gates believes the best way to address climate change is to help poor farmers adapt. "A stalk of GM rice is just like a seawall, and far more cost effective" he said.
Funk visited Nathan Myhrvold, Microsoft's former chief technologist and current CEO of Intellectual Ventures (IV). Intellectual Ventures is working on geoengineering and patenting methods to stop hurricanes, refreeze the Arctic and cool the Earth using sulfur dioxide aerosols. The idea is to simulate the effect of large volcanic eruptions. This phenomenon was first observed by Benjamin Franklin in 1783 when he was stationed in Paris and severe Icelandic volcanic eruptions caused temperatures in the Northern hemisphere to plummet. The Mt. Pinatubo eruption in 1991 in the Philippines was the most recent example. World temperatures fell by about 1 F for a year after Pinatubo. Newt Gingrich, before his 2012 presidential run, echoed the sentiment in his campaign literature when he said, "Instead of imposing an estimated $1 trillion cost on the economy, geoengineering holds forth the promise of addressing GW for just a few billion dollars a year." Myhrhold has now attracted funding from the Gates Foundation.
Funk points out that climate activists strongly oppose a broad set of solutions. They have the one solution—cut back, live lightly and go renewable. They believe everyone must do with less.
That solution is impractical, yet adherents preach it like a religious ideology. They say global warming is God's punishment for the world's population growth and profligate life style of its inhabitants.
Myhrvold stated that the strategy of relying only on emissions reductions was particularly burdensome to the poor, who cannot afford to do much. Asian countries want industrial development to move out of poverty. I don't know how one can morally or physically stop them. Africa's people live on the edge. Right now they are starving and dying of malaria, dengue fever and other diseases that could be alleviated by a fraction of the amount the rich world wants them to spend on ameliorating climate change. It's clear the poor and hungry don't have the same priorities as the wealthy elites.
Funk concludes with a discussion of magical thinking—namely that a growing belief in the impending cataclysm of global warming will lead to a real worldwide effort to stop it. But all he sees in reality is a bunch of entrepreneurs looking for short term gain.
Question: Does climate change worry you?