Where are your eclipse sunglasses?
It isn't a dumb question because the flimsy, one use only, $2 shades are the stuff of a provocative metaphor for how we live our lives. This issue came up after reading Seth Godin's pithy short blog this past Tuesday, "The Market for Used Eclipse Sunglasses," which I will reprise now.
"It doesn't matter how many you have. It doesn't matter how much you paid for them. It doesn't matter how long the line was yesterday. The market is gone. It's a sunk cost. Falling in love with what we have and reminding yourself of what it cost you is no help at all. The same goes for the value of the assets we invested in, the rare skills we used to possess, the position in the marketplace we worked so hard to get. New days require new decisions."
As a used machine tool dealer who has speculated on and collected the eclipse sunglasses of the machining world for decades this blog was gold. I walked around my 20,000 square foot warehouse yesterday looking at Wickman and National Acme, Schutte and Gildemeister cam operated screw machines. At one moment, they looked like iron excrement, and then a customer called from New England looking for three machines, and the flotsam and jetsam sparkled like sapphires and rubies in my mind's eye.
Value is in the eye of the beholder. The collector sees a fortune in old comic books and an ugly clunky wooden desk made in 1840 by a venerated craftsman. For a hobbyist a solid 40-year-old Bridgeport mill or sturdy little South Bend lathe are perfect for basement experimenting.
********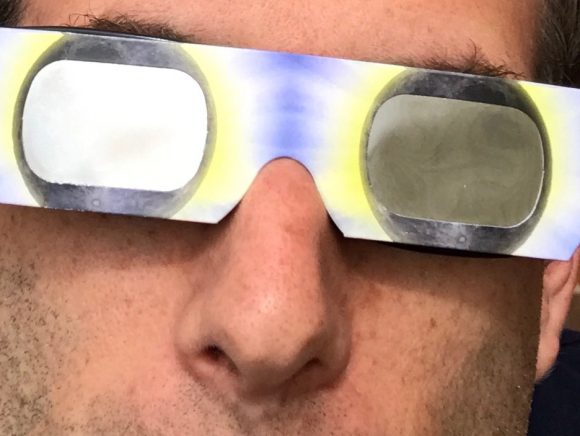 Seth Godin is also right, I must admit. In business we cannot be trapped by our eclipse sunglasses, no matter how useful they were for a few precious minutes on Monday.
There is an auction coming up on August 29 in Lancaster, Pennsylvania, with 40 well-maintained cam operated Tornos Swiss-type screw machines. They made money for the family that owned the shop for many decades. They probably will be sold and packaged for shops in Vietnam after the auction. Today, the shop owner probably looks at them ruefully, like eclipse sunglasses that he kept way too long.
When I discussed the Godin blog with my children and grandchildren they reacted to the one-day glasses with a different angle. To them, the sunglasses were an artifact, but one of value, because in five years they could pull them out of a closet and recall a wonderful memory of sharing the eclipse experience on August 21, 2017. For them the eclipse sunglasses were like a photo album or a poster advertising the first concert they attended. That view intrigued me. It romanticized the junk. But it does not change the kernel of truth in Godin's blog. Graff-Pinkert cannot run a business selling machines whose main value is sentimentality.
The old iron, the now useless sunglasses, the obsolete ideas we cling to from childhood must be pitched or we will become the doddering hosts of tomorrow's roving pickers.
Question 1: Are mechanical machine tools the eclipse sunglasses of manufacturing?
Question 2: Do you have a Bridgeport in your basement?