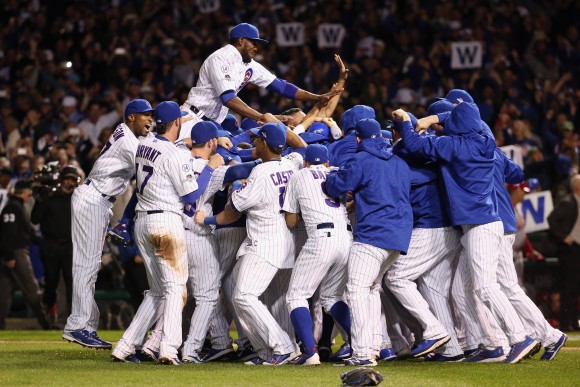 My Chicago Cubs have been berry berry good to me.
I know many of you are not baseball fans, but bear with me for awhile as I write about my baseball season rooting for the Chicago Cubs and how I feel today after my team was swept in four games by the New York Mets on Wednesday.
I have loved baseball since I was 5 years old. My Mom was a fan. She grew up near Wrigley Field and could easily walk to games, though I think she seldom went even though her father was an avid follower of the Cubs. When she married my Dad at 19 they moved to the Southside of Chicago where he was from, a huge culture shock for her in many ways. Chicago is a city of neighborhoods, usually defined by ethnic and racial backgrounds, but also by one's baseball team preference. She moved from the urbane, wealthy North Lake Shore Drive area to an upwardly mobile Jewish ennclave on the Southside, surrounded by Irish Catholics and African Americans who were devoutly tied to the White Sox.
So I grew up amidst rabid Sox fans who ridiculed me for rooting for my Cubbies.
But I have held to my Cubs religion all these decades. I would drift away at times as the team was generally awful. The Wrigley family made billions in the gum business, and Cubs owner P.K. Wrigley coined money broadcasting his team on WGN TV whether they won or lost. The Cubs were usually a laughing stock but they usually had excellent radio and TV broadcasters, and stars like Ernie Banks to keep interest alive.
Occasionally a good team would come together like in 1984 and 2003, but they did not have staying power and quickly disintegrated into mediocrity or worse. But finally, after all the depressing decades, a new regime running the Cubs has built a team of talented, extremely young players with a brilliant manager in Joe Maddon to mold them into a winner. Management did not overhype the new players, but if you followed the team you felt something good was actually going to happen soon. Maybe not in 2015, but pretty soon.
From the beginning, this season felt quite different to me. It was apparent from Spring Training that Maddon was cerebral, comedic and psychological. He is a baseball lifer who seems to have absorbed the essence of the game in his bones and still loves it like a kid. He is not a jock, but he totally understands jocks and respects their talent. He is also unafraid of the players or of being wrong. He was free to make controversial decisions like replacing incumbent shortstop Starlin Castro with rookie Addison Russell (he moved Castro to second base), and batting the pitcher eighth.
I watched all this with utter fascination from the first game in April. The Cubs virtually had a whole new team by May from the 73-win team of 2014. Joe Maddon was loving it. The players were improving every week and they were winning a few more than they were losing. Maddon brought in a magician one day, had a pajama party on a night flight from California, and brought in party dresses and hairdressers as they dressed up like girls going to a prom. The kids were having fun – and winning. As a fan I could feel it. I was devouring baseball articles every day, learning esoteric sabermetrics and listening to Maddon deliver management treatises after games.
Players who had been decent became very good and some showed true greatness. Jake Arrieta transformed into a legitimately elite pitcher in the second half of the season with a dominance comparable to that of a Sandy Koufax and Bob Gibson. He averaged less than one run a game over his last 20 starts, an absurdly low number. When he pitched the players knew they would win. And they did.
For a fan like me or my son Noah, it felt like the great days of Michael Jordan and the Chicago Bulls of the 1990s. Coming to our beloved Wrigley Field, it was magical, amazing and just so much fun. And the beauty of it was that I could savor it. The season felt like a blessing that I was privileged to have. After almost dying seven years ago, every game with this team felt like a gift and part of my reprieve from death.
My daughter Sarah who lives in California came in with her husband and three girls and insisted we go to a game. It turned out to be the pivotal game of the regular season as the Cubs swept a four game series against the Giants, their rival for the wild card slot in the playoffs.
And the beautiful thing is that her daughters were becoming Cubs fans like their parents, grandparents, great grandparents and great great grandparents.
During these playoffs at least six of us, composed of friends and family all over the country, group texted during the games, everybody adding pithy comments during our highs and lows. My seven-year-old granddaughter Chava texted about her team, spelling words phonetically, as she watched and cheered the Cubs in front of the TV in Palo Alto. My wife Risa, who had always been indifferent but tolerant of my love for the Cubs, finally became an avid fan herself, swearing liberally when the Cubs goofed up or the other team scored. The circle had closed for five generations, and it felt so good.
We were all frustrated by the Mets sweeping the Cubs in the National League Championship Series, but I was not heartbroken. After all these years, I had my best season ever rooting for the Cubs! The playoffs were all gravy.
My wonderful granddaughter Chava summed up my feelings in her last text Wednesday night, "Let's get excited for next year cuz thats when theyll win it!"
That's my payoff for all these long years of being a Cubs fan.
Question: What is your sports religion?