Scroll down to listen to the podcast.
Today's podcast is part 2 of an interview we did with Alec Mandis, Chief Executive of Accord Precision, the largest machined component manufacturer in New Zealand. Over the years Accord has strived to set itself apart by developing a diverse group of niche products. One example is a stainless steel diving helmet made from an investment casting which took the company three years of R&D to produce successfully.
Main Points of the Interview
(2:30) Alec talks about the process to produce Accord's stainless steel diving helmet from an investment casting. He says that five years ago the commercial diving industry needed a more durable helmet than the standard light weight fiberglass ones at the time. Accord spent three years of R&D to bring its helmet to market.
(7:15) Alec talks about why Accord spent so much time and money to develop its stainless steel diving helmet despite it being a low volume product. He says that creating a difficult product like the helmet elevated the company's capabilities for process controls. Accord became better prepared to produce other difficult or high risk products such as those for the medical device industry. It also demonstrated the company's abilities to potential customers.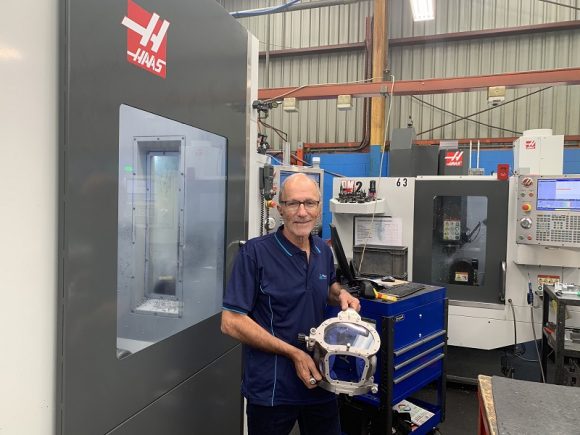 (11:30) Alec says that Accord has put great emphasis on statistical process control and ISO registration for decades. The company has ISO 13485 medical device accreditation which enabled it to get FDA registration in the United States in six months, which Alec says normally takes companies four or five years to obtain.
(12:50) Alec says his best trait for running his business is his ability to manage people. He says it is essential to communicate with employees and create strong relationships with them. He says it is important to help them when they need it but push them when possible.
(13:50) Alec says the thing he would most like improve upon is a work-life balance in his personal life. He is trying to spend more personal time with family but says it is difficult while running a business. He thinks New Zealand has a pretty balanced work schedule. Accord's employees work 40 hours a week over a four day work week, but Alec still works five days a week.
(16:55) Alec says that New Zealand's geographically remote location has spurred the country's innovation and self-sufficiency. He says the country has the best magnet manufacturer in the world and is a world leader in the production of MRI machines. The country also shines in the agricultural and dairy sectors.
(18:40) Alec explains that the nickname "Kiwi" for a New Zealander comes from the kiwi bird, which is native to the country.
Question: Can a small machining company afford to do extensive R&D?
Podcast: Play in new window | Download