I came into contact with Edwin Nyuysever Mbinkar a month ago, when he sent an email to Graff-Pinkert inquiring about an expensive Mikron 5-axis machining center on our website. He explained that he was the manager of a High Tech Centre (British spelling of "Center") in Cameroon, and he wanted his school to have the first 5-axis machining center in the country.
I was intrigued by his story, so I looked for a reasonably priced machine for him. I located a Haas 5-axis in Wisconsin and then queried some dealers and industry experts about the practicality of exporting a machine like it to Cameroon. Everyone told me that it was illegal to send a machine that powerful to an African country (other than maybe South Africa), so I dropped the project. Even so, Edwin was still gracious enough to be interviewed for our podcast.
Facebook: https://lnkd.in/dB_nzFzt
Instagram: https://lnkd.in/dcxjzVyw
Twitter: https://lnkd.in/dDyT-c9h
Main Points
Edwin Nyuysever Mbinkar is the Director of the High Tech Centre of the National Advanced School of Engineering at the University of Yaoundé in Cameroon. It is an engineering school that offers students access to technology such as CNC machines, robotics, and state of the art 3D Printers, which were recently supplied by the Israeli government.
Currently, Cameroon's economy is almost exclusively based on natural resources and agriculture, mainly timber and mining. Edwin says that everything in Cameroon made of iron is imported. The one domestic Cameroonian manufacturing company is a glass bottler.
Cameroon's government has a stated a goal of becoming an industrialized economy by 2035. Edwin doubts this is possible because of the country's old regime. There have only been two presidents in Cameroon since its founding over 60 years ago. He says the elderly rulers are out of touch with modern technology, so until there is change in the country's government, the economy will not modernize significantly.
Cameroon has a highly educated population. As of 2010, its literacy rate was around 80% (comparable to that of the US), but the country still has few quality jobs available. Many of the engineers studying at Edwin's school may not be able to find work in their field in Cameroon. Some will leave to work in other countries, others will work for foreign companies that are investing in Cameroon. Edwin says it is extremely difficult for entrepreneurs to start manufacturing companies in Cameroon because the necessary infrastructure and capital equipment are unavailable.
Cameroon's economy has been bolstered by investment from foreign companies and governments, such as France, China, Germany, the U.K., and the United States. Edwin says the nations investing the most and also exploiting Cameroon the most are France followed by China. They receive a lot of natural resources and agricultural products in return for building roads and other infrastructure such railways and damns to create electricity. The United States invests in Cameroon's mining sector, which includes oil and natural gas, some of which has not yet been tapped.
Since 1967, Israel has had a close relationship with Cameroon. Edwin says Israel sought out Cameroon because it is strategically located in the crossroads between central and west Africa. The country boarders Nigeria and the Republic of Congo, which is adjacent to the Democratic Republic of Congo. Israel recently donated 13 state of the art Stratasys 3D printers to Edwin's technology center, which are likely the most powerful 3D printers in all of Africa. Edwin spent 10 months working in Israel in 2018.
Cameroon has a bright spot for entrepreneurship, known as Silicon Mountain. It is a group of startups from young engineering graduates, concentrated in the city of Buea. These companies specialize in software, programing and robotics, areas which require minimal expensive capital equipment
Edwin's personal story demonstrates that even in a poor African country like Cameroon, upward mobility is possible. His parents were farmers, but they still paid for him and his siblings to get an education. He has two sisters and one brother who are US citizens. He has PhD, and teaches in Cameroon, Nigeria and Burkina Faso. He also owns his own company, designing molds for plastic bottles that are produced in China. He says there is a lot of bureaucracy to start a business in Cameroon, but he knows how to navigate it.
Edwin says Cameroonians need a little push if they want to change their standard of living. Most people in the country are poor, but they have just enough to survive, so they don't have the motivation to force a messy change in their government. He looks at Rwanda as a model of how an African country can reinvent itself. Following the genocide in the early '90s, in which 800,000 to 1 million people were killed, the country has become the fastest growing economy in Africa.
In the coming months Edwin says his engineering school will purchase a German made 5-axis machining center from a French seller.
Question: What have you produced on a 3D printer?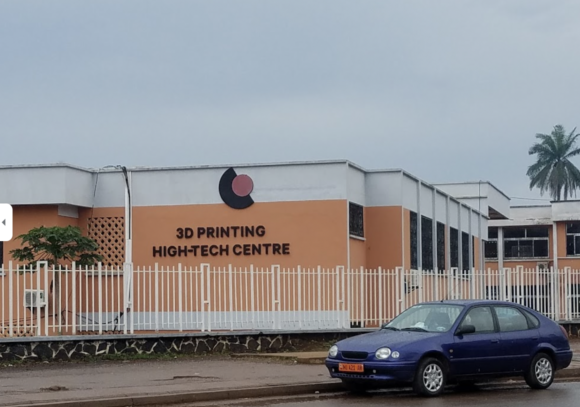 Podcast: Play in new window | Download