Pasta machines operate a lot like cam screw machines, Antonio Adiletta told me when I interviewed him for this week's podcast.
Antonio is co-owner of Arcobaleno and GAM Precision in Lancaster, Pennsylvania. After growing up in Italy, Antonio moved to Canada and then eventually emigrated to the United States with his wife and business partner, Maja. He has manufactured, sold, and serviced fresh pasta making machines for 26 years, and for the last decade, he has simultaneously run a CNC machine shop.
Find us on Social:
Facebook: https://www.facebook.com/swarfcast
Instagram: https://www.instagram.com/swarfcast/
LinkedIn: https://www.linkedin.com/company/todays-machining-world/
Twitter: https://twitter.com/tmwswarfblog
When Antonio started his career in manufacturing at a young age in Como, Italy, he apprenticed at a company that produced fresh pasta machines. For folks unfamiliar with fresh pasta, not all pasta comes as dry noodles in a box. Fresh pasta is soft and looks like dough. When restaurants boast that they serve "homemade pasta" they're talking about fresh pasta. Often fresh pasta noodles are formed with an extrusion process, which is great for producing tubular shapes, like rigatoni, spaghetti, or penne. The other main method for producing fresh pasta noodles is the lamination process (rolled process), which is used for flat noodles like pappardelle and fettuccini. When I asked Antonio to tell me his favorite pasta noodle, he explained that choosing the right pasta depends on the marriage between the specific pasta noodle and the sauce. For tomato sauce, he likes spaghetti because of its thin diameter. For meat sauce, he says gnocchi or short rigatoni (mezze maniche) are ideal counterparts.
As an apprentice in Italy, Antonio set up and serviced industrial pasta machines weighing as much as 5,000 pounds. Often he worked on machines that made tortellini and ravioli because those machines required more fine tuning than those making simpler noodles. Decades later, when Antonio bought his machining company, GAM Precision, he realized that Brown & Sharpe screw machines operate using the same principles as tortellini machines. Like operating a Brown & Sharpe, in which a cam indexes the turret, in a tortellini machine a cam indexes the stuffing or moves the filling injector.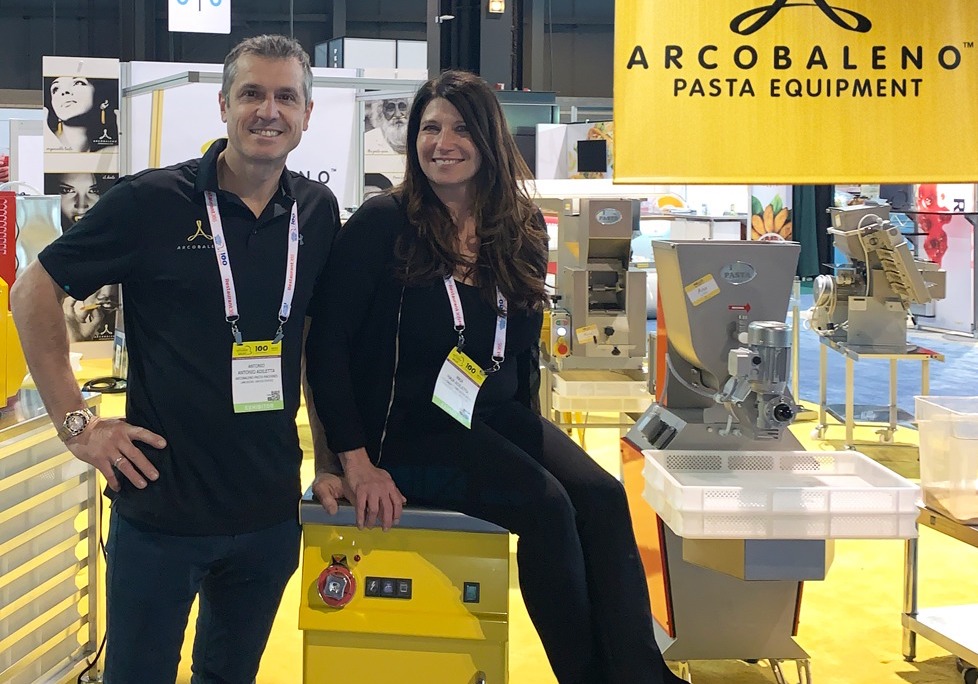 Antonio eventually moved to Canada where the Italian pasta machine company that employed him had opened a distribution office. He worked there several years setting up and servicing machines. In 1995, he started his own company, which built industrial fresh pasta machines in-house. In 2002, Antonio and his wife moved their business to the United States. At first they continued to build their own line of machines. However, after a while, they decided that business model was too labor intensive, so they went back to distributing machines from a supplier in Italy.
In 2012, Antonio and Maja purchased GAM Precision to diversify their business. It seemed like a good fit because they already owned some CNC equipment and had experience in manufacturing. Within a decade, they have modernized GAM from a cam screw machine shop to a highly automated CNC job shop, featuring some of the most powerful Citizen Swiss CNCs on the market.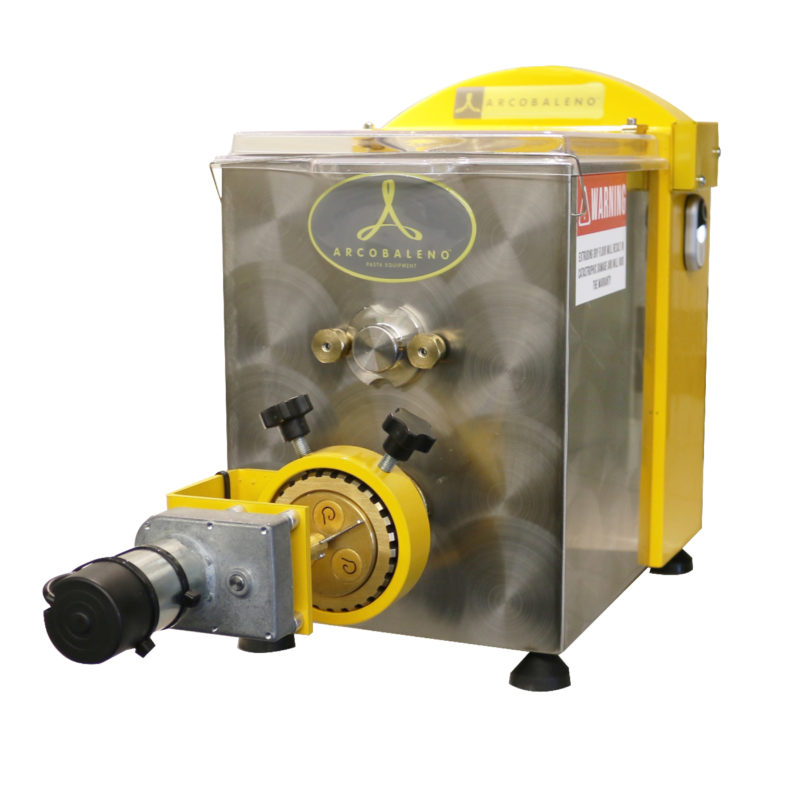 Antonio says in the United States Arcobaleno has no competitors who can match its service in the industrial pasta machine space. However, the pasta machine business is challenging because unlike precision parts customers, who consistently demand more product, pasta machine customers often don't need to buy new machines for many years because they are so durable. This means the company has to constantly look for new customers. 
At the end of the interview, Antonio walked around his showroom to explain various industrial pasta machines in his product line. He also showed me some colorful consumer models sitting under a Christmas tree. He told me about the challenges of making gluten free pasta—"because the gluten is really like a glue, that holds it together." We compared the lighter gnocchi made in southern Italy to that of northern Italy composed of a much higher ratio of potato to flour. He preached the importance of salting the water abundantly before cooking pasta—enough to make it taste like sea water. 
Antonio knows that it's the little details that produce perfection.
Question: What's your favorite pasta dish?
Podcast: Play in new window | Download