I am finally taking the time to stretch my neck and shoulders, and particularly my rotator cuff, during my quarantine at home (too many curve balls thrown over the years). I had never taken the time to do it until now.
I believe we will look back in a few years and say what an awful yet productive period we are living through right now. I decided to list things I think we will look back on with fondness about this frightful corona time, and ask you to add to the list.
1. Manufacturing is coming back to the US from China. We are hearing from many of our clients that they are getting scads of prints to look at because China has shown itself to be a self-serving and now unreliable source. Cheaper, yes, but when companies figure in all of the negatives of outsourcing to China, more and more firms want to reduce their reliance.
2. Reliable workers are becoming more available for hire with the unemployment shake-up we are going through. Young people will see the need for ventilators as a symbol of the importance of manufacturing in America, and a shift will take place away from office work.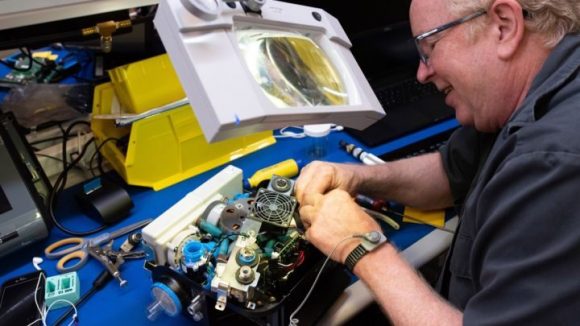 3. A tremendous shift in medicine, education, therapy, religious services, office space usage, and a myriad of other things is taking place overnight. Some of these shifts will revert back, but the rapid change in the way people connect via interactive computer software is the beginning of a huge and permanent shift which will improve accessibility to quality services immensely and reduce costs in money and time. Just consider the time you spend traveling to the doctor's office when often an interactive computer visit would be just as effective.
4. Families and friends coming together. People are going out of their way to connect these days in Zoom, or by phone, Facebook, or FaceTime. Quarantine has brought a strong desire to reach out to people who are important to us. Separation has brought a yearning to connect much greater than in "normal times," when we are often complacent about relationships and the tendency is to ignore them.
5. Even the politicians are getting along. Republicans are talking to Democrats, governors are talking to the president and each other, bureaucrats are connecting with other bureaucrats in different departments. The Food and Drug Administration okayed the use of hydroxycoloquin for COVID-19 on anecdotal and preliminary data. Normally it would have taken forever and a day. Pelosi and Trump still can't stand each other, but they both hold their noses and get vital legislation done. The Fed gets ahead of the markets and props up soft spots before they become crises.
6. Despotic countries like Iran, Venezuela, and Cuba are falling apart for various reasons.
7. Money is finally going into vaccines, which for many years have been an area starved for funds.
8. The country is preparing for the next pandemic or at least a possible next wave of COVID-19. Next time we will have the machines in place to test with a pin prick and blood test in 15 minutes.
9. We are cooking more and getting better quality take out. McCormick Spice Company stock is booming and quality eateries are doing takeout and delivery like never before. A pricey restaurant in Menlo Park, CA that my daughter and her husband go to on special occasions is now doing take out cocktails in mason jars. My local deli has chicken matzo ball soup to go, delivered to my car.
10. GM is making ventilators on two weeks notice. Not Tesla, but GM, that takes 6 months to PPAP a screw is putting together a ventilator with the cooperation of the UAW, made with hundreds of parts in an empty Kokomo, IN plant. Sounds like World War II. Who would have thunk it?
11. Companies all over the country are being recruited to make approved design face shields for people on the front lines of the illness. A company in Columbus, OH took a working design from a local hospital, copied it in their software, quickly got it approved at the local hospital, and bought five new printers to run it 24 hours a day. The printers were delivered by a truck driver who drove all night to get the cargo to them. Now they are making the design available to anybody with 3D printer capacity.
I am not a Pollyanna. You can't be one and run a business, but the list is impressive. Please add your own observations.
Question: What positives do you see coming out of the COVID-19 war?