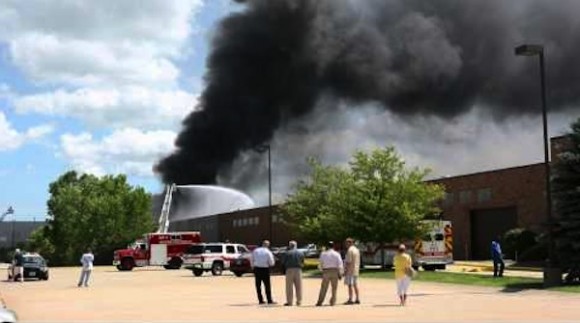 Two months ago, Metal Seal Precision of Mentor, Ohio, had a fire. The incident is a warning to people who run screw machines that the workplace is a dangerous environment. Nobody was injured, but it caused a huge mess from the smoke, heat and water. John Habe IV runs the family owned company and he is one of the smartest, shrewdest guys in the turned parts business. He is doing a massive juggling act, getting his insurance money, reviving the Metal Seal shop in their nearby Arrow Manufacturing plant. He currently is deciding which machines to save and which to replace while he attempts to keep his clients happy and supplied. IV, as John Habe is sometimes called, is one of those guys with the temperament to pull off this balancing act.
*****
Autocam, the big machining house based in Grand Rapids, Michigan, sold out to NN Inc. in July for $300 million. John Kennedy, the owner of the company, which he founded 25 years ago, has had a brilliant if bumpy career in the machining world, but he certainly is riding the wave of the improving automotive machining market of 2014. Kennedy appears to have learned from his ill-fated foray into the European precision machining arena in the early 2000s. This time, as the economy rises, he is harvesting the money while betting on the continuing up cycle by taking a big piece of NN Inc. stock to go along with $244 million in cash and the assumption of $30 million in debt. Plus he is keeping his medical business.
The deal sounds a lot like the sale of PPC of Syracuse in 2012. Belden Wire paid $500 million to the founding Mezzalingua family for a big Davenport and Hydromat shop that knew how to make cable TV connectors. Meanwhile, the very bright third generation operators of the company retained the intellectual property for the next iteration of products for the industry.
*****
The Precision Machined Products Association (PMPA) in Cleveland is a well-run trade association that our used machine tool company Graff-Pinkert belongs to. Mike Duffin, who had led the group successfully for 11 years, stepped down a year ago. The PMPA replaced him with Michael Kobylka, which turned out to be a marriage not made in heaven. Kobylka moved on by "mutual decision" last week. Rob Kiener, a longtime respected PMPA staff member, now has the Interim Executive Director title. My guess is that he will stick in the job. Usually when a person gets a job on the rebound like Rob, the people at the firm or trade group will rally around the guy who has been a reliable stalwart. For what it's worth, I think Rob would be an excellent successor.
*****
One of the things I confirmed at IMTS, is that Mexico is becoming the new Detroit of North American manufacturing. With auto company after auto company building capacity in the country, it is estimated that 4.5 million cars will be manufactured there by 2019. Parts suppliers are stepping over each other to create enough capacity to meet production needs. Much of the production will still come from plants in the United States, but with NAFTA there is a big push to build capacity in Mexico. Very few of the parts will come from border plants. It is too messy and dangerous near the U.S. border — the interior of Mexico is much safer. But the challenge in Mexico is the same as in the U.S. and Canada, but more so — a lack of skills. Hydromat is putting in place full-time sales people and two full-time service people in Mexico. The company also has two bi-lingual field technicians working out of St. Louis. The ramp-up is an exciting opportunity for American machining firms, but certainly one with huge obstacles.
*****
Wondering what it costs to exhibit for six days at IMTS? Plenty. The scuttlebutt is that DMG MORI budgeted $13.5 million for their extravaganza. Hydromat put in $850,000 for their exhibit. Swisstek Inc. had two Swiss CNCs in a small space and spent $85,000. Universal Robot spent $250,000, which included the expense of flying its Board to Chicago from Denmark, but the company corralled orders for 50 robot arms and acquired 1200 leads.
*****
I love farmers markets and farm stands in the summer. I visit a local farm several times a week during the season for obscenely delicious sweet corn and melons. As I was leaving recently, I saw a half dozen pickers laboring in the field next to the stand. It startled me to see how hard they were working, stooping awkwardly to pick the delicious ripe tomatoes. This food that I love so much during the short season definitely comes with a human cost.
Question: If your factory had a fire, would you replace your capacity with similar equipment? What might you change?