Today we are starting a new podcast show and blog on the Today's Machining World Podcast Network called "Seeking Serendipity." Click the following links to listen on Apple Podcasts, Spotify, or Google Podcasts.
As our regular readers and listeners know, we talk a lot about serendipity in Today's Machining World and on Swarfcast. Serendipity is the concept of being in the right place at the right time. Some people call it being lucky, a Spanish customer of Graff-Pinkert once translated it as "destino."
But why produce a blog and a podcast about serendipity for a media outlet directed at the precision machining community? Because it's a concept that applies to the manufacturing business and to living a successful, happy, and interesting life.
"Seeking Serendipity" will often center around my experiences as a used machinery dealer, whose livelihood relies on serendipitous events, such as one we had this week.
A machinery dealer I'm close with in California called me last week to get an opinion on a Tsugami Swiss machine he had in stock. It was a beautiful machine, manufactured in 2016, but we were both a little fuzzy on its demand. I made a mental note, but didn't think much of it. I didn't know anyone who wanted that machine, but as I like to say in our business, all it takes is one customer—that one right customer to make a successful deal.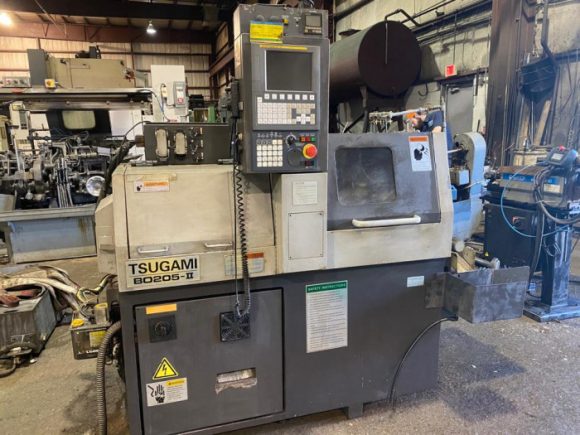 A few days ago, a manufacturer inquired about a machine on Graff-Pinkert's website, a Tsugami B0205 II manufactured in 2014. We have been trying to sell that machine for a while. I just can't understand why nobody has bought it yet. But that's a story for a different blog.
I was excited to call the customer back to discuss the B0205 II. Unfortunately, he wasn't actually looking for that model. He just contacted us because we had a Tsugami.
The next morning, for some reason the guy's machine request was lingering in my brain. I suddenly remembered my friend in California who had asked me for advice about that same model the guy was looking for! I called him right away and the machine was still available. I then called the manufacturer I had spoken to the day before. I sent him a quote, and within an hour he wrote back that he would buy the machine!
A whole machinery deal nearly completed in a few hours. In case you're wondering, deals like this don't happen everyday, and as I write this, no transaction has been finalized yet.
Why did this deal happen? What did the three parties in this deal do to create this "luck?"
First, I have a good network of people I talk to regularly about machines. This other dealer and I share information often. We have a relationship and have built trust over time. If he didn't know me, he likely would not have called me the week before to get my opinion about this machine, and there would be no deal.
Secondly, the deal happened because a customer searching for treasure took the initiative to experiment. He contacted me, even though I hadn't advertised the exact machine he wanted. Perhaps he was thinking that if we had a similar Tsugami to what he was looking for, just maybe, we might have the Tsugami that he actually wanted.
Then, I connected the dots. I listened to the elements manifesting around me and followed my nudges, which led me to bring the machine to the customer.
People in the precision machining industry rely on serendipity constantly. They solve problems for a living. To be successful they have to be present in the moment. They have to notice all the opportunities at their disposal, experiment, and put everything together to make things "work out."
Honestly, I'm not going to claim to be a serendipity guru yet.
I don't know exactly how this blog and podcast are going evolve, and I don't want to sound like I think I know everything. I'm experimenting and following my nudges with the faith that this will work and be great! I want to take people on this journey with me. We will learn new strategies and share them as a community, which of course, is a key ingredient to creating serendipity.
Question:  When did you encounter serendipity recently?
Podcast: Play in new window | Download