Our guest on today's show is Terry Iverson, co-owner of Iverson and Company and author of a new book called Finding America's Greatest Champion: Building Prosperity Through Manufacturing, Mentoring and the Awesome Responsibility of Parenting.
Scroll down to listen to the podcast
Terry and his family have been in the machine tool and production business for almost 100 years, specializing in Hardinge equipment. In writing this book, Terry draws upon his vast network of professionals in a variety of businesses to understand how mentorship and apprenticeship can rebuild American manufacturing. 
Main Points
(4:00) Terry says his book's main message is that with better mentoring and parenting the United States could fix its problem of the skills gap in manufacturing.
(5:15) Terry talks about the origins of his family's machinery business. In 1925, his grandfather went to work at Hardinge. He started sweeping floors, but soon climbed the ladder in the business because of his engineering acumen. He started his own business in 1931 selling and rebuilding Hardinge machines. Terry's father joined the business, and his uncles started their own production shop. After spending six years getting his mechanical engineering degree, Terry joined the business about 40 years ago, though he was reluctant at first.
(9:25) Terry says he sees his book as a way to give back to the industry that has been so good to him and his family. He says over the span of his career his clients have told him more and more that they can't find enough skilled people. He hopes that his book helps to change the culture of education in the United States from one that only encourages expensive 4-year colleges that result in horrible student debt. Terry says he credits his own success in life to having lots of great mentors such as teachers, coaches, and family friends.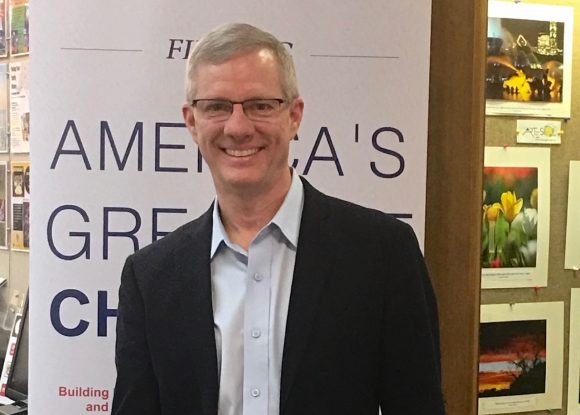 (11:15) Terry says mentors are valuable because they can use their experience to guide young people, to help them find the best ways to succeed. He says that while there is nothing wrong with college, it is a pity that young people are not also exposed to manufacturing trades. He says that more mentors and parents who are aware of potentially fulfilling and lucrative careers in manufacturing can help change this trend. Terry says that the manufacturing industry in the United States hasn't advocated enough for itself, whereas in many European countries manufacturing jobs are highly regarded by society. Terry sites a stat that if the U.S. manufacturing economy was ranked among manufacturing economies of other countries it would be ranked 8th in size. 
(18:20) Terry says that apprenticeship programs in the United States began disappearing in the late 1980s, but today he is starting to see a comeback. He says part of the reason the apprenticeship programs disappeared was that U.S. companies were thinking only of the short-term bottom line, in contrast to European companies that take a more long-term business strategy. He says in Germany manufacturing companies typically have 10 percent of their workforce as apprentices, meaning a company of 200 workers would have 20 apprentices, etc. He says the German American Chamber of Commerce is working hard to bring back the trend of apprenticeship programs.
(21:30) Terry says he hopes that as the manufacturing industry becomes more computerized and automated, that computer savvy young people will be attracted to it. 
(24:40) Terry says that young people in Europe know what they are passionate about in their teens. He feels that more internships and programs that expose American young people to a variety of careers could help build a skilled workforce in manufacturing, as well as other fields in the United States. 
(29:00) Terry talks about a 17-year-old intern he had at his own business who was interested in engineering. She had an idea for a device that tested for concussion protocol. Terry contacted a friend from high school who was a biomedical engineer who helped her get a pending patent. She went on study engineering at the University of Illinois.
(31:20) Terry says to go to Championnow.org for information to buy his book. He is offering a special discount to listeners of Swarfcast.
Question: What made you choose a career in manufacturing?
Podcast: Play in new window | Download