I've loved pro football since the days of Johnny Unitas. Dropback quarterbacks have dominated the game, but in recent years defense has become more prominent. Now the sport is swinging toward a more elusive running quarterback. With this swing, another interesting trend has been evolving. The quarterback position has become more "athletic," and the players coming to dominate it are primarily young and African American.
I've always regarded the National Football League as the most racist of the major sports. Yes, about 80% of the players are African American, but traditionally the quarterbacks have been White. The recent dust-up with Colin Kaepernick, an African American quarterback who ironically was raised by White parents, highlighted the deep-seated neanderthalism of the ownership, administration, and hardcore pro football fans.
Among this year's playoff teams, five are led by young African American signal callers. Russell Wilson of Seattle, Lamar Jackson of Baltimore, Deshaun Watson of Houston, "Dak" Prescott of Dallas, and Pat Mahomes of Kansas City are all dynamic young stars. The myth in the bad old days was that Black quarterbacks didn't have the savvy, intelligence, and leadership ability to be NFL quarterbacks. That has finally changed, as the ability to avoid 300-pound rushers has begun to replace the quick-release-but-immobile Tom Brady and Phillip Rivers style.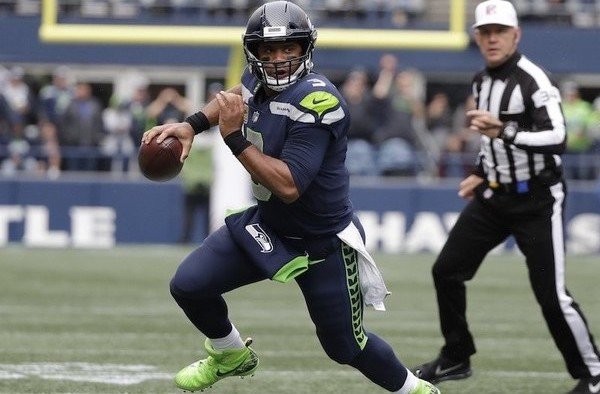 Improvising and throwing on the run, epitomized by Russell Wilson when the Seahawks won the Super Bowl in 2015, has truly altered the quarterback position. Nevertheless, the stone-age thinking still dominant in the NFL pushed Lamar Jackson down to 32nd pick in the 2018 draft. Despite being probably the best player in college football during two seasons at Louisville, some pro football GMs were thinking he should switch to wide receiver or defensive back, reflecting the bias against "athletic" Black quarterbacks who could advance the ball in ways other than by throwing sideline routes.
The elusive quarterbacks have proven what should have been an obvious fact. If a quarterback has 5 or 6 seconds to enable 5 or 6 receivers to get open, he has a better chance for a completion than chucking the ball in 1.5 seconds like the incredibly accurate, but relatively immobile, Brady or Rivers style.
But if quarterbacks like Wilson or Mahomes win themselves five extra seconds, they will usually do it at the expense of the ideal throwing position. They will throw off their back foot or sidearm or even with two hands like I've seen Wilson do. Their style is not classic Johnny Unitas high-top-shoes football. But, wow, can they put up points and excite a fan like me!
Wild Card Weekend was an interesting test of the mobile athletic quarterback versus the classic old-school, accurate, "statue" style. The games were not high scoring at all. Defenses seemingly were primed to bottle up the shorter running QBs. Two of the all-time great pocket passers, Phillip Rivers of the L.A. Chargers and Andrew Luck of the Indianapolis Colts, demonstrated that if you have a great offensive line to block for you and you have incredible composure, courage, and vision, you do not have to be evasive to be successful. Nick Foles of the Eagles also held up well against a superb Chicago Bears defense, as he did last year when he led Philly to the Championship.
To me, the conflicting styles of quarterbacking only make the game more fascinating. I think we will now be seeing more offensive linemen becoming first-round draft picks. The effectiveness of the Indianapolis guards and tackles in keeping Andrew Luck's uniform clean against a tremendous Baltimore Ravens defense enabled Luck to dominate their game in the first half. Fabulous offensive linemen, like Jason Peters of Philly and Quenton Nelson of Indy, are game changers if you have an old-school quarterback to protect.
This week's games should be great. Will Tom Brady defy age and immobility to lead the Patriots? Will Pat Mahomes of Kansas City show how he threw for 50 touchdowns this season? The game is changing, but the remarkable standstill, old-school quarterbacks are still holding up well.
Question: Which type of quarterback do you prefer watching? Russell Wilson or Tom Brady?