When I take my daily shower, I devote my energy to groaning and swearing at the walls. My pent up pain, not really directed at any one thing, is drowned by the noise of the water striking the floor. It is one way to dissolve the negativity that feels so powerful inside me early in the morning.
I towel off quickly and flop back into bed exhausted from the hot water and the verbal expiation, continuing my groans. After ten or fifteen minutes flat on my back in bed,  I do my fifteen minute prayer and meditation ritual, eat breakfast, and head to work, where I need to listen, solve problems, create money making possibilities, and also prepare to write this blog.
Pain and negativity get in the way of all those behaviors. Hopefully the cleansing shower helps reduce my negativity that is a permanent pebble in my shoe.
I think dealing with negative emotions is a problem every person feels. I was reminded of this by a beautiful essay that appeared in the Wall Street Journal on December 27th. Written by John Tierney and Roy Baumeister, the essay summarized their new book, "The Power of Bad: How the Negativity Effect Rules Us and How We Can Rule It."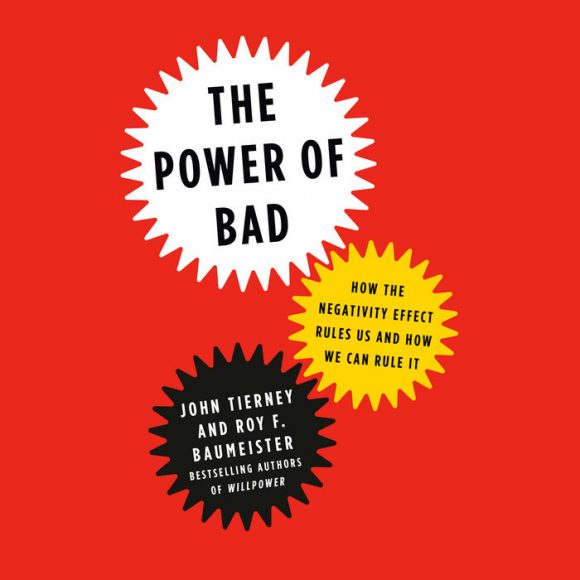 The authors' thesis is that we are genetically programmed to worry because if the cavegirl didn't worry almost incessantly, she would starve or be eaten for breakfast. Vigilance and worry are bred into us so we can literally have our daily bread. But it can make for a lousy life.
Parents, even "good parents," often reinforce the fear in their kids: "You want to succeed in life, you better ace that test." The news media reinforces negative feelings because it's rarely news if it isn't something bad.
The task in business is to keep the "bad guys," ie. the Bank, the competitors, and the purchasing agents, from chopping our legs off, while keeping our team positive. It ain't easy, and a few mistakes, sometimes just one, can spell ruin for a 25 year firm.
Tierney and Baumeister argue that one bad thing, even if softened by several good things, can ruin your day. Their rule of thumb is that it takes four good things to compensate for one bad one, so if you are unkind to a spouse or co-worker, think about several nice actions to compensate.
They point out how one bad apple in the office or on the shop floor can pollute a business, especially with the power of social media and gossip.
They stress the value of sharing good news, but I also think that sharing the hurt can also be powerful because most people understand pain and can alleviate it just by listening with compassion.
One other fascinating point they brought out is that older people seem to be happier and more grateful than younger ones. I find this a bit counterintuitive, but they argue that we tend to remember the happier stuff when we are older. Maybe, but the aches and pains sure do hurt at times.
Personally, I am deeply aware of my negativity bias. I don't know if I ever felt the Chicago Cubs would win a game, but I am still a lifelong fan. My business life requires a constant façade of confidence and belief and yes, I do convince myself I can be a winner at times. In a business that requires taking daily risks, I need a team that is not needy, is not afraid to confront me, but does not dwell on failure when bets don't come in.
I am curious how the readers of this blog deal with negativity. Can you douse it? Can you identify it and somehow make it your friend? Or are you one of those rare souls who knows the sun will shine on them every day?
Question: How do you make things less bad?