Today's podcast is about reducing friction in our machining and our lives. Our guest is Jerry Gates, founder of Gates Engineered Lubricants, a company near Houston, Texas, which produces metal working fluids, industrial lubricants, and rust inhibitors for a variety of applications.
Scroll down to listen to the podcast.
Main points of the interview
(3:15) Jerry explains the metal working products his company sells such as forming fluids, cutting fluids, corrosion inhibitors, and cleaners. The company's flagship product, Aladdin 334, is used for deep hole drilling applications such as ejector drilling, trepanning, and gun drilling.
(5:10) Jerry explains the ejector drilling jobs faced by TimkenSteel, one of his company's significant clients. TimkenSteel drills holes from 2 inches up to 14 inches in diameter through bar stock as long as 60 feet. This requires a mineral oil based product with extreme pressure additives and anti-welding additives because of the long duration of the cut.
(6:15-10:30) Jerry talks about his background. He is the son of a carpenter. He worked in construction but changed his career to selling industrial supplies. He began his training in coolants and lubricants with Master Chemical. Later in his career, Jerry worked for Castrol's marine division, where he learned more about industrial lubricants.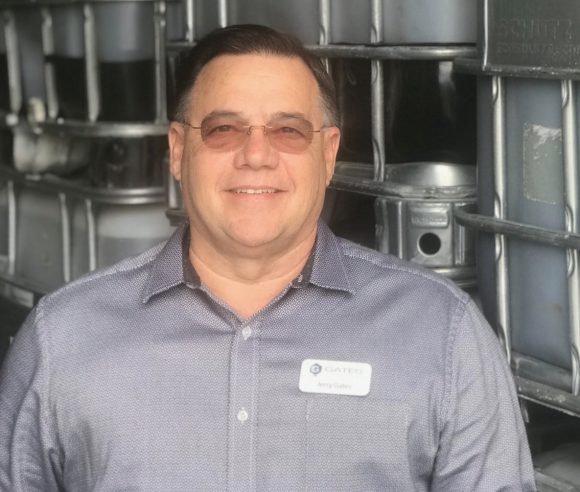 (10:40) Jerry talks about what led to him founding Gates Engineered Lubricants in 2005. After decades working in the industrial supplies business, he switched careers to sell insurance, but former clients still called him to consult them on their metal working needs. He helped a former Castrol client with its injector drilling problem, which led to him founding his company.
(15:25) Jerry says it is easier for his smaller company to solve customers' problems because he can focus on executing their specific applications. He says his larger competitors are often set in their ways, using older methods that are less specifically tailored to clients.
(15:55) Jerry talks about improving TimkenSteel's tool life for injector drilling from 40 feet to 450 feet since Gates took it on as a client 12 years ago. He says his company is usually able to increase clients' tool life 30-40%.
(16:45) Jerry talks about how Gates' oil differs from competitors in metal working fluids. His company's oil based machining products contain no chlorine or animal fats, which he says are still used by 90% of shops. We joke that this makes his oil "kosher." He says products with animal fats and chlorine are hard to dispose of, bad for the environment, and have been banned by the European Union.
(21:30) Jerry talks about vegetable oil products. Gates offers a few of them, but it focuses more on mineral oils because vegetable oils have the same disposal problems as other products.
(29:30) Jerry discusses the complications that resulted from the Trump administration's roll backs on environmental regulations. He also talks about the negatives and positives of the Obama administration's environmental policies.
Question: Are you happy with your tool life?
Podcast: Play in new window | Download