Today's podcast is the second episode of a season in which we're talking to folks in the machining world outside of the United States.
We're making a second stop in the UK to talk to Tom Pearce, founder of CIRC Manufacturing in Westbury, England, a small CNC shop specializing in producing flow control products using a Citizen Swiss lathe and Hitachi 4-axis mills. Tom talked about entrepreneurship in the UK and his company's first consumer product, a luxury pen machined from exotic super alloys.
Scroll down to listen to the podcast. Or listen on your phone on Apple Podcasts and Google Podcasts.



Main Points
(2:10) Tom gives his background. He says he started as an apprentice electrician working with his father. Later he did maintenance engineering and installations in a big rubber factory that made strips and slabs of custom rubber compounds. Then he decided to start his own company. 
(7:10) Tom talks about starting CIRC Manufacturing. He says that while working at the rubber factory he taught himself to TIG weld on the weekends and started a welding side business. In 2014 one of his welding customers in the oil refining industry told Tom he had a job that was going to go big time and said this could give him enough work to start his own business. Tom says his dream was to start his own business so this opportunity gave him the impetus to quit his job and do it. Unfortunately, the big job he was promised never came. Tom had just signed a five month lease on shop space, so he took some small welding jobs. Then he got a lot of work welding cabinets for electronics, which enabled him to grow a business.  
(10:30) Tom says he thinks British people have an entrepreneurial spirit because he sees more and more people wanting to be self-employed.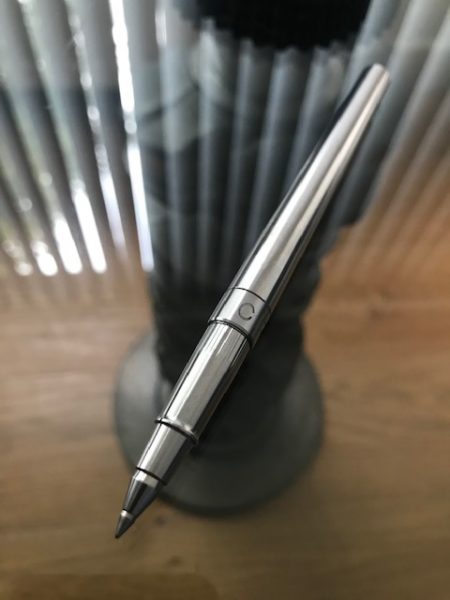 (11:30) Tom talks about a luxury pen (see photo) he designed made from exotic super alloys such as Inconel and Nitronic 16. CIRC Manufacturing is now producing the pens on a 1993 Citizen L320. Tom says he thought it was a good product to sell because it is a product that people already want. He says the pen is important for showcasing his company's capabilities as well has creating a new revenue stream. It is priced at 200 GBP. Tom says he spent months resurrecting the Citizen, but it now is a very reliable machine. He jokes that the tooling on the machine likely costs more than the machine itself.
(17:50) Noah asks if most English people are happy living in England. Tom says he thinks they are, but he admits he is speaking as someone who lives in the country side, so he can't speak for everyone around the country.
(19:00) Tom says that his biggest challenge is to find the right people to work in his shop. He says the challenge is not necessarily because of a lack of talent available. He says he is most concerned with finding people he can work well with. Currently Tom has one full time employee, one independent contractor, and his mother does the office work.
(21:00) Noah asks Tom how he thinks British people view machining. Tom says living in the country he sees enthusiasm for machining, but he says that people in bigger cities may be less interested. But, he says he thinks that recently machining seems to be being portrayed as a little more hip on the Internet and on social media.
(23:25) Tom says that 2020 would be a good year if his company could finish as well it started. He says it started off well but when COVID-19 hit, he couldn't get material he needed from Germany for several weeks. He says business fell off for a short time but has picked up.
(24:00) Tom says that CIRC Manufacturing's specialty is flow control products—parts for metering, instrumentation, shafts, pins, and bushes. He says on the Citizen he makes pins and shafts, and for parts 20mm and larger he uses two Hitachi Seiki 4-axis mill turn machines. 
(25:00) Noah asks Tom to tell him something interesting he has learned in the last week. Tom says he learned how much work two men and a couple of old CNC machines can put out in a week. 
(26:30) Tom says that people can find out more about his company, CIRC Manufacturing, by going to his website, www.circmfg.co.uk. 
Question: What was the first machine tool you ran?
Podcast: Play in new window | Download